Ferguson Bath, Kitchen & Lighting Gallery is mad about mod
Modernism Week's Exclusive Kitchen & Bath Sponsor for an eighth consecutive year and the largest 2022 corporate sponsor
Tuesday, February 8, 2022
Ferguson Bath, Kitchen & Lighting Gallery is honored to be a top Modernism Week's Kitchen & Bath Sponsor for an eighth consecutive year. Since 2006, Modernism Week lures design and architecture enthusiasts together to celebrate midcentury modern design, architecture, art and culture. The weeklong festival in Palm Springs runs from February 18-27. It hosts nearly 350 events, including tours, films, lectures, parties and exhibitions, allowing attendees to experience the American design movement that captured the imagination of our country for over 70 years.
---
Mid-century modern design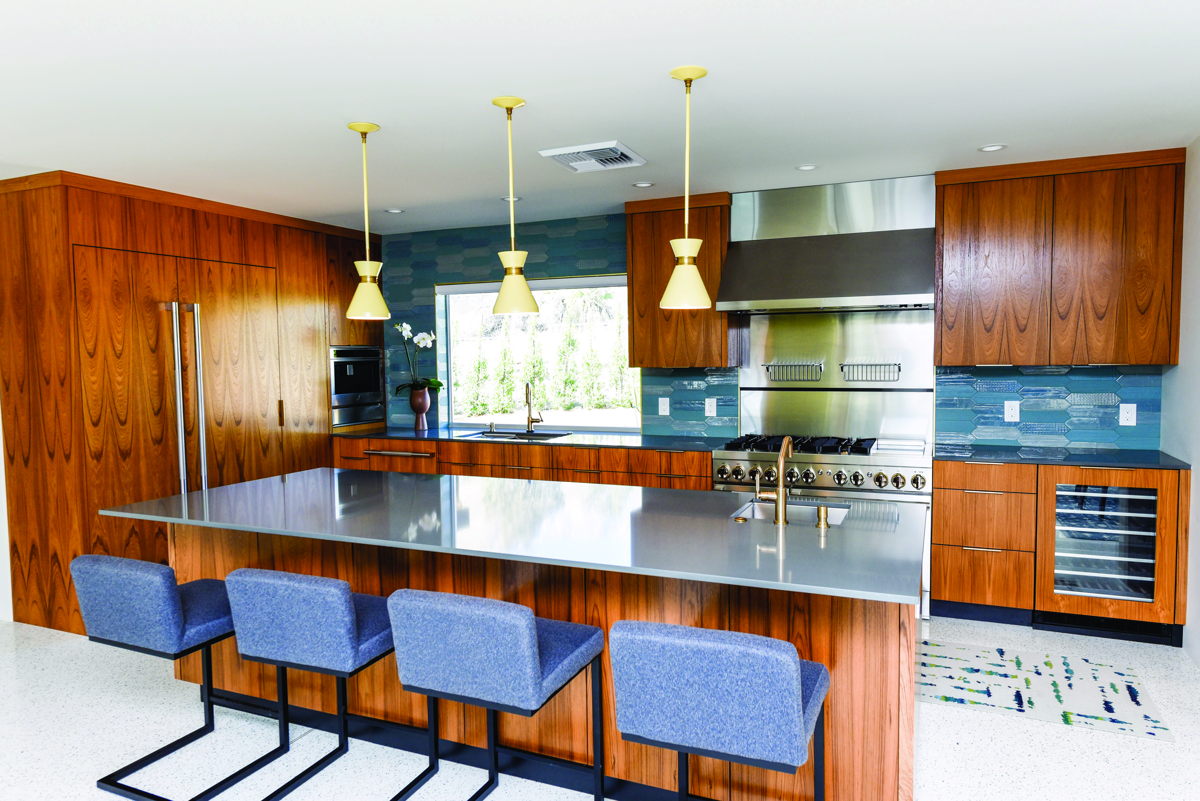 For anyone unfamiliar with mid-century modern, designers, architects and artists in the 1950's (at the height of the movement) began to focus on balancing beauty with affordability, advancing the practical needs of ordinary families. Trendsetters looked to the International and Bauhaus styles for inspiration, putting functionality on par with aesthetics to create appliances, furniture and household items that were beautiful and useful.
Adopting clean, uncluttered straight lines and ordered arrangement and soothing and natural elements (over highly decorative and elaborate embellishments of the past) resulted in a simplified elegance to produce a singular and enduring aesthetic.
---
Ferguson's sponsorship
As in previous years, Ferguson's sponsorship will be represented at various Modernism Week venues and events, including Modernism Week's CAMP ("Community And Meeting Place") and Limón: the Modernism Week Featured Design Project Tour.
Modernism Week's CAMP ("Community And Meeting Place")
"CAMP is the central meeting place for all things modernism," said Chris Mobley, CAMP Manager. "At CAMP, our attendees may discover activities to attend, shop at our Destination PSP outpost, explore design elements for their homes and relax and commune with fellow modernists. If Palm Springs is the epicenter of modernism, CAMP is the epicenter of Modernism Week."
Ferguson Bath, Kitchen & Lighting Gallery invites participants to visit their interactive CAMP sponsor booth co-hosted with attending Modernism Week sponsors JennAir®, Brizo and Signature Hardware. Stepping inside the booth is stepping inside an experience. Modernism Week attendees visiting CAMP will see and experience a variety of bath, kitchen and lighting products ranging from distinctive luxury kitchen appliances to cabinet hardware, fixtures and indoor lighting.
Experience the architecture inspired Frank Lloyd Wright Collections by Brizo ® as well as stunning minimalist faucet designs including Signature Hardware's BOK Collection. With two distinct Design Expressions — RISE™ and NOIR™ —JennAir®, the brand that pushes form and function to transform spaces, will feature custom cooktops with expansive black glass and hidden lace textures.
Entrance into CAMP is free and open to the public daily from February 18-27 from 9 a.m. to 6 p.m.
To learn more the products at CAMP, visit Build with Ferguson.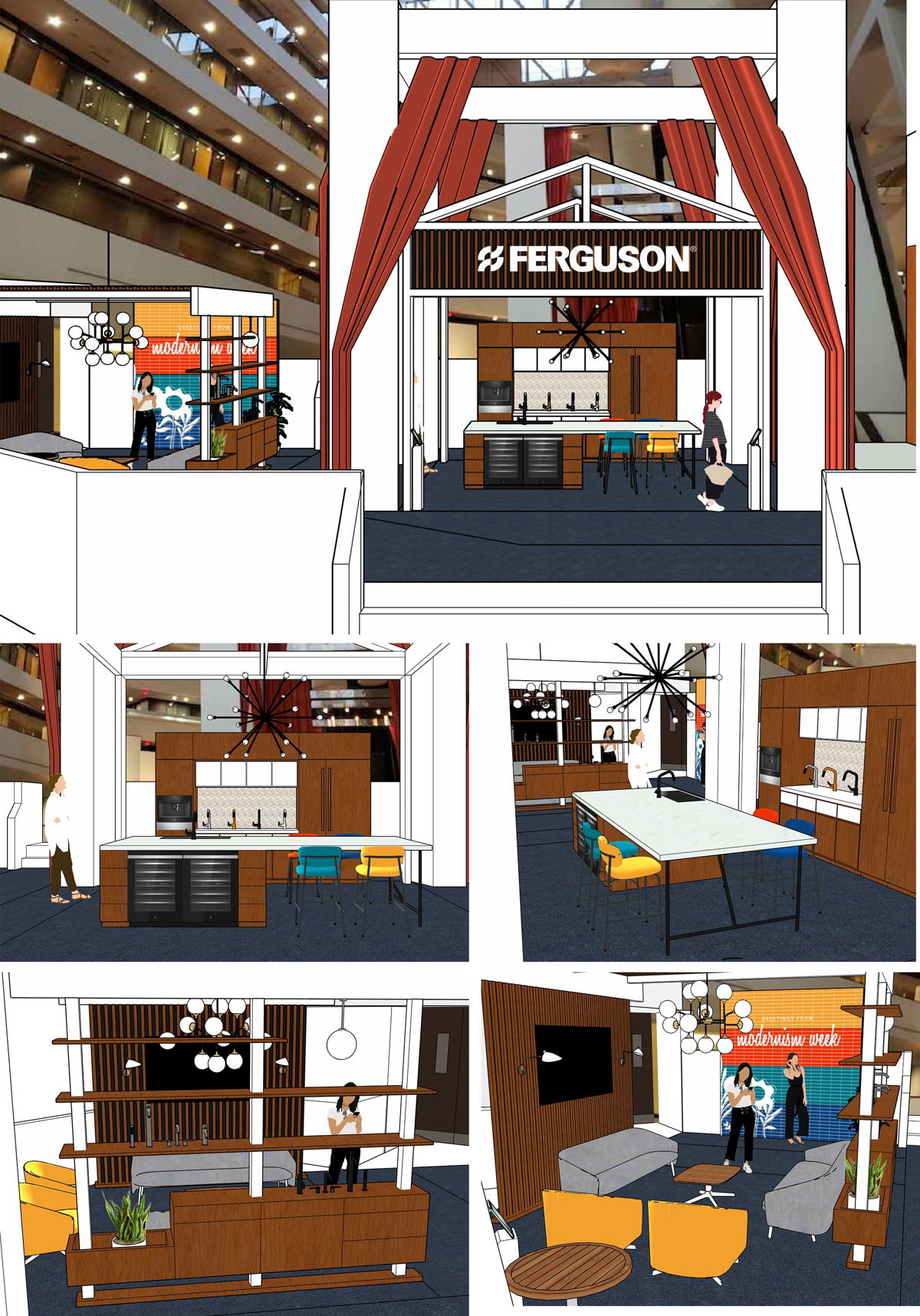 Limón: the Modernism Week Featured Design Project Tour
Initially designed in 1964 by architect Marshall Roath as a six-unit studio apartment building, Limón has been put to various uses over the years, both residentially and commercially. Today, the seven-bedroom property in South Palm Springs showcases its midcentury modern origins thanks to its sparkling swimming pool surrounded by sun-filled spacious rooms in an all-steel structure recently renovated by H3K Home+Design in partnership with Ferguson Bath, Kitchen & Lighting Gallery.
H3K Home+Design's overall inspiration for the Limón property was the midcentury modern movement of Central and South America, precisely a continental vibe and a strong influence from the 1968 Mexico City Olympics. To achieve the look, H3K Home+Design said, "We chose door hardware from the Baldwin Estate Collection and cabinet hardware from the Amerock Caliber and Separa Collections. For the appliances, we love the JennAir NOIR collection, from which we chose the refrigerator, range, and microwave. In the bathrooms, we used the Brizo Kintsu line, for its unique angles, in the Brilliance Black Onyx finish."
To read an interview with H3K Home+Design, visit Build with Ferguson.