Ferguson expands participation for 2018 Pasadena Showcase House of Design
Ferguson Bath, Kitchen & Lighting Gallery participates in the Pasadena showcase house for third consecutive year
Monday, May 7, 2018
Ferguson Bath, Kitchen & Lighting Gallery is pleased to announce its' third consecutive year participating in the Pasadena showcase house, open April 22-May 20, with all proceeds benefiting music education. Ferguson showrooms span the U.S. and are very active supporting many local programs that bring positive change, including the Pasadena Showcase House of the Arts (PSHA), one of the oldest, largest and most successful house and garden tours in the nation.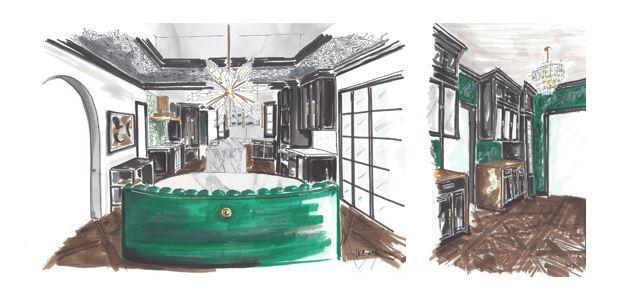 "The Pasadena Showcase House for the Arts has a long history of showcasing the most innovative and on-trend designs, products and brands," says Sean Scully, director of showrooms Southern California for Ferguson Bath, Kitchen & Lighting Gallery. "We are very pleased to expand our participation and support the designers transforming this year's historic home," adds Scully. "Our continued involvement in the show house is an example of our commitment to the design community."

The Kitchen and Butler's Pantry designed by Jeanne Chung of Cozy Stylish Chic features dramatic accents of brass and malachite for a fresh and modern edge alongside appliances sourced from Ferguson for professional-grade functionality, style and modern convenience. The Sub-Zero Wolf appliances include a built-in French Door refrigerator, E-Series Transitional Steam Oven, 48" stainless steel 4-burner gas range, and a beverage center with in-wall 24" coffee system, in-wall 24" microwave drawer, and adjacent 120-bottle wine cooler. A show-stopper custom designed hood in brushed and polished brass by Modern-Aire from Ferguson tops the kitchen's range. Additionally, two Asko hidden dishwashers provide modern convenience and seamless design.

The sun-drenched Teen Suite bath, also designed by Cozy Stylish Chic, maximizes light, storage and symmetry in the room. Formerly an office, it now features a curb-less and door-less shower with stunning unlacquered brass hardware from Kohler and Kalista. Its fresh mix of modern meets eclectic interiors also includes a Kohler vanity, complete with make-up storage ensemble.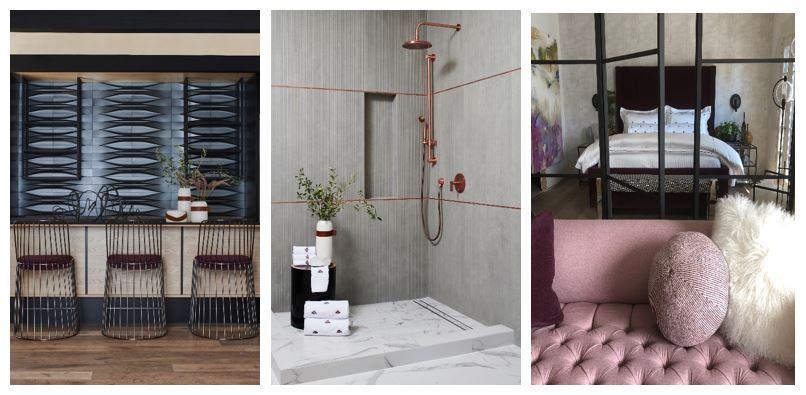 The Guest House designed by Jason Lai and Stephanie Leese of L2 Interiors, the talented design duo known for their fresh perspective and originality, is a playful retreat steps from the main house featuring several custom elements including graphic contemporary glass and metalwork, and statement LED lighting by Hubbardton Forge. The dramatic Guest House Kitchen features an open-concept influenced by Scandinavian design with artistic three-dimensional tile backsplash, wood and copper accents and appliances seamlessly integrated into the cabinetry to maintain clean lines

A plum velvet bed frame with suspended Anenome circular chandelier is the focal point of the Guest House Bedroom. The newly enlarged modern grey and white tile Guest House Bath by L2 Interiors features tile uniquely installed vertically to accentuate the height of the ceiling and give a grander appearance to the space. Its custom plum vanity designed with Tolosa NativeStone sink with copper Newport Brass faucet sourced from Ferguson add warmth and texture.
The high style contemporary Au Pair Suite and Bath by Rosita Nazarian of RKN Designs includes artistic linear LED pendant lighting, luxury faucets by Brizo Litze collection, and an eye-catching raincan showerhead by Jason Wu for Brizo

Crisp white contemporary cube vanity, mirror, one-piece toilet and cabinetry from Duravit accentuates the suite's modern feel.

For high-res photography of the products featured in the home, please contact us.
About Pasadena Showcase House for the Arts
The 2018 Pasadena Showcase House for the Arts sits on a panoramic 1.6-acre lot with more than 11,000 square feet of living space, which will be transformed by 22 interiors and exterior designers creating beautiful rooms with design ideas to view and experience. Now in its 55th year, home tour is visited by approximately 30,000 guests each year. The event supports the Los Angeles Philharmonic Association and brings nonprofit music enrichment and art programs to Southern California. It features innovative design concepts, products and technologies available for the home as conceived by Los Angeles' leading designers.
An all-volunteer organization, PSHA is a non-profit California Corporation whose members donate their time and talents to produce the annual Pasadena Showcase House of Design, one of the oldest, largest and most successful house and garden tours in the nation. Founded in 1948, the organization has donated nearly $20 million to provide music programs in the community. Examples include the underwriting of concerts, choral productions, musical theater, opera, jazz quartets, marching bands, and orchestras at local schools, senior centers, and many other non-profit organizations. Additionally, a staple part of PSHA's program is music therapy for at-risk children, scholarships for young musicians, and music education at a variety of levels. This is in addition to their longstanding support of the Los Angeles Philharmonic Association. They also produce three highly regarded annual music programs: Music Mobile™, Instrumental Competition and Youth Concert. An essential part of PSHA's mission is to nurture the study and appreciation of music and to ensure that music is available to a broad range of audiences. For over 66 years, PSHA has funded and produced programs that have enriched the lives of countless people and brought a legacy to the community.