Ferguson sponsors Pasadena Showcase House Designers for sixth year
Tuesday, May 17, 2022
Ferguson Bath, Kitchen & Lighting Gallery  is pleased to announce its continued vendor sponsorship in the Pasadena Showcase House of the Arts(PSHA), marking its sixth year in the fundraising initiative.
Ongoing until May 22, the 57th edition of the showcase is held in a 1905 English Tudor mansion in the historic Greene & Greene neighborhood in South Pasadena.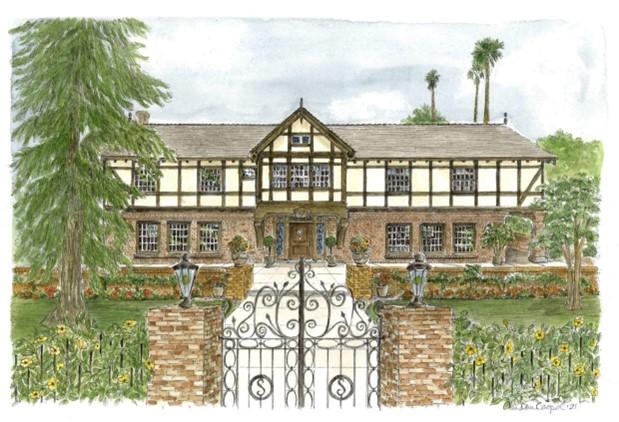 Ferguson Bath, Kitchen & Lighting provided a range of products to four designers: Jeanne Chung, Maria Videla-Juniel, Karen Billman, and Rachel Durate with FergusonBath, Kitchen & Lighting appliances, lighting fixtures and plumbing fittings to display at the mansion in their designs. Ferguson Bath, Kitchen & Lighting decorate the mansion's kitchen, butler's pantry, pool cabana, fit stop gym and bath and guest suite.
"We value supporting our design community and the opportunity The Pasadena Showcase House for the Arts brings us to showcase our offerings and design inspiration in partnership with top design talent," says Alison Crowley, showroom manager for Ferguson Bath, Kitchen & Lighting Gallery Pasadena.
Jeanne K Chung, owner of the trade showroom Cozy•Stylish•Chic and the newly opened Designer Domicile, designed the kitchen and butler's pantry for this year's House by taking cues from the home's 1905 traditional English Tudor Revival architecture.
For the kitchen, Chung opted for appliances from Monogram provided by Ferguson Bath, Kitchen & Lighting Gallery to channel a traditional English pantry but with a modern edge.
The butler's pantry features appliances from Ferguson Bath, Kitchen & Lighting Gallery's Statement Collection, including the Advantium 5-in-1 oven, undercounter wine storage, crystal ice maker, and dishwasher.
Principal designer and owner of The Art of Room Design Maria Videla-Juniel designed the pool cabana using a combination of neutral tones and textures to bring the outside indoors seamlessly. With all-weather furnishings, the bar and catering peninsula kitchen feature a built-in wine sommelier refrigerator, five-in-one oven/microwave combo, warming and cooling drawers, and an ice maker. Generation Lighting mini pendants cascade from the vaulted ceiling. In the dining area, a Generation Lighting Oglesby chandelier with washed pine beads adds a rustic touch, welcoming casual entertaining.
"The end result is a beautiful, totally reimagined pool cabana with a fresh contemporary vibe that marries organic textures from nature with the latest in all-weather furnishings," says Videla-Juniel.
Pasadena-based designer Karen Billman designed the 330 sq. ft. fit stop gym and bath by moving away from popular trends, all the while staying true to PSHA's 2022 palette. Signature Hardware chrome fixtures supplied by Ferguson Bath, Kitchen & Lighting Gallery bring out subtle undertones in the gray tile floor. "I'm excited to have turned both the gym and the bathroom, along with the hall that connects the two, into showpieces for the entire house and created rooms the owner will enjoy using on a daily basis," says Billman.
For Rachel Duarte, stylish functionality in the guest suite was of utmost importance. Matching the vanity faucet, her bathroom design features Brizo shower plumbing fittings from Ferguson Bath, Kitchen & Lighting Gallery with a stationary showerhead, a handheld shower, and a decorative drain, all closed off with a new shower enclosure.
The annual fundraiser by Pasadena Showcase House for the Arts returns to South Pasadena for the first time in over forty years. This year's House is a stately 1905 English Tudor mansion in the historic Greene & Greene neighborhood, a home built for Mr. Harry Hawgood, an English civil engineer whose career designing railways and waterways spanned multiple continents.
For more information about the annual Pasadena Showcase House of Design or to purchase tickets, visit: https://tickets.pasadenashowcase.org/events.
ABOUT FERGUSON
Ferguson is the largest wholesale distributor of residential and commercial plumbing supplies and pipe, valves and fittings in the U.S. The company is also a major distributor of HVAC equipment, fire protection systems, waterworks and industrial products and services. Founded in 1953 and headquartered in Newport News, Va., Ferguson has sales of $22.8 billion and approximately 31,000 associates in 1,600 locations. Ferguson and its subsidiaries serve customers in all 50 states, Puerto Rico, Mexico and the Caribbean. Ferguson is part of Ferguson plc, which is listed on the New York Stock Exchange (NYSE:FERG) and the London Stock Exchange (LSE:FERG) and is in the FTSE 100 index of listed companies.
ABOUT PASADENA SHOWCASE HOUSE OF DESIGN
Pasadena Showcase House of Design is the fundraiser produced by Pasadena Showcase House for the Arts to fund their music programs and award gifts and grants to other non-profit organizations to support their efforts.