High Tech, Low Touch
Incorporating Smart Technology for a Cleaner Home
Thursday, August 13, 2020
Early on in the pandemic as disinfecting supplies were disappearing off shelves, customers began to look for creative ways to clean their homes. Fortunately, for years manufacturers have looked for ways to incorporate smart technology that multitasks to increase functionality, improve sanitation, safety and more. Product specialists at Ferguson Bath, Kitchen & Lighting started to get calls about touchless fixtures, bidets and smart lighting immediately.
Hands-free and voice-activated technology in the home was first seen as a luxury and many times consigned to early adopter, the tech-savvy, individuals with physical limitations or those aging in place. Now, it is becoming the norm and available to everyone. As one showroom consultant reports, "When my mom first got her touchless faucet, she would tell me every time I saw her how much she hated it because she didn't know how to use it. But now that she's figured it out, she loves it. Now you should see her when she's at someone's house who doesn't have one."
Instinctive and smart lighting solutions, smart keyless locks, touchless faucets, hands-free flush automation, automatic lid opening and self-cleaning features are becoming expected. They appeal to a customer's sense of well-being regardless of health limitations.
According to Leslie Graeser, district lighting manager for Ferguson Bath, Kitchen and Lighting Gallery in Washington, D.C., "One of the things the pandemic has taught us is that the hygiene benefits that handsfree technology offers is no longer for early adopters; due to the pandemic, it will be seen as the norm and be expected. For example, no longer is the toilet a fixture we take for granted. Instead, homeowners now see it as a fixture that deserves as much thought and attention as selecting a major appliance."
For homeowners who are looking for ways to incorporate touchless fixtures, Graeser suggestions:
Light switches are known to be one of the dirtiest surfaces because they are being touched numerous times a day. Smart lighting solutions reduces the need to touch them. With the development of simple systems that can integrate into smartphones and tablets, automation for residential lighting is becoming more accessible and affordable to homeowners.
Many are quickly recognizing the benefits of advanced functions like voice controls for smart lighting and therefore choosing to upgrade from a mechanical switch to smart light switches or sensors. Smart light sensors can be controlled using a mobile app, configured on a schedule and set up to work with voice-activated devices. Sensor options automatically illuminate when motion is detected.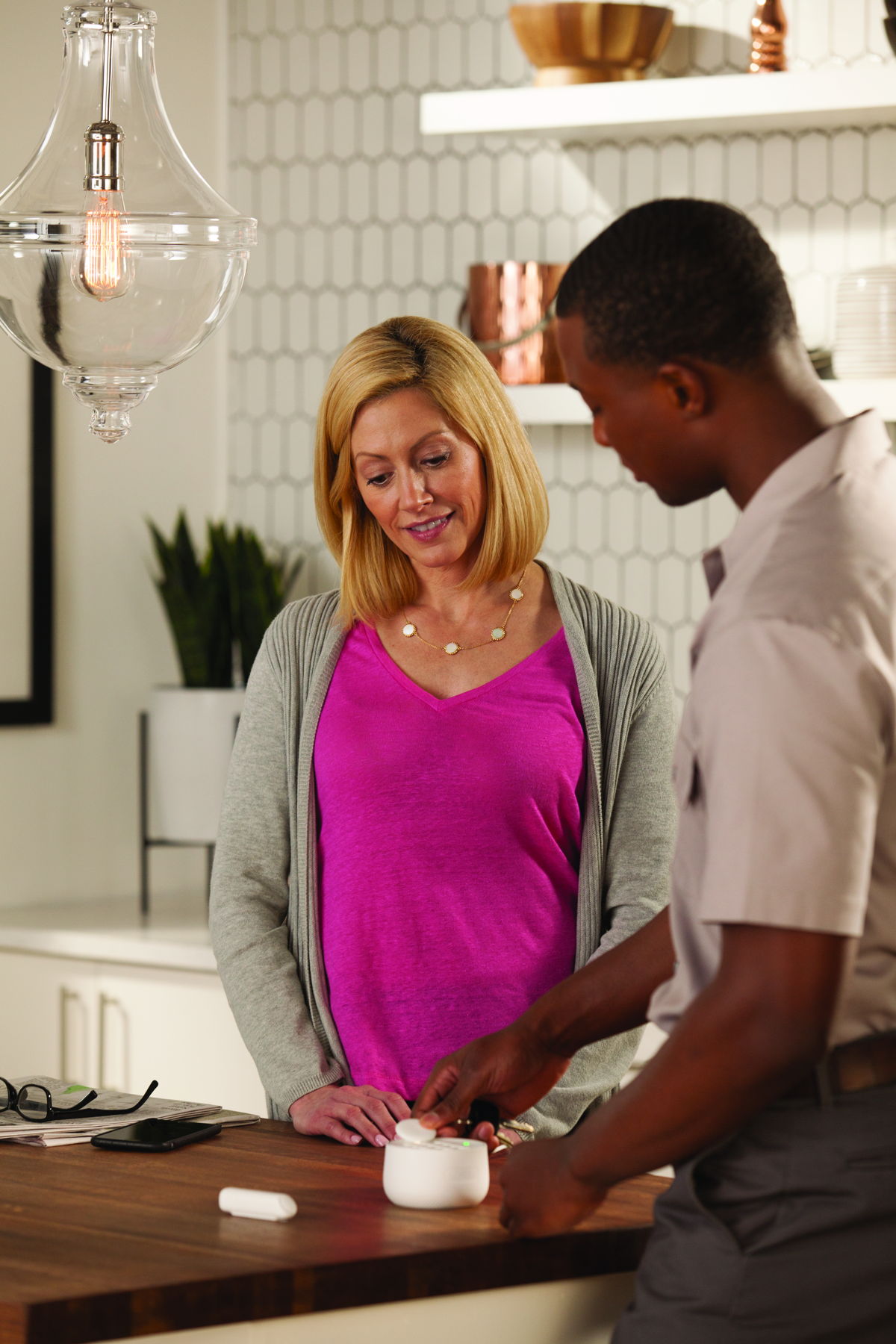 Digital keypad and smart door locks boast several advantages over their keyed counterparts. When thinking about germ transmission, one place where germs can be introduced to the home is the front door. A smart lock is a high-tech solution that reduces human surface contact. Some digital keypad and smart door locks come with a key and others do not. Their features include keyless options, voice-activated, biometric identifiers and/or a combination.
One model that is gaining popularity is the Nest x Yale lock. It is completely keyless and allows you to lock and unlock the door with the Nest app. Two impressive features are its unique passcodes ability and the keyless deadbolt design. Homeowners can give unique passcodes to family and guests and set schedules to let them in. The keyless deadbolt is secure and tamperproof so no lost key and no picked locks. It works with the Nest Secure alarm system so every time you unlock the door, and the alarm disarms automatically and that's another surface where contact is reduced.
Touchless faucets are also a smart way to improve the overall cleanliness and sanitation in your kitchen and bath because there are no handles or knobs to contaminate during handwashing. Most touchless faucets work by a motion-activated sensor. This faucet is the answer to busy moments in the kitchen where people find their hands full and messy. For example, when you are rinsing chicken or other raw meat, you rinse the meat and then touch the faucet to turn off the water. The handle is now potentially contaminated with harmful bacteria like salmonella. Almost every major plumbing manufacturer has developed several pull-down kitchen faucets that incorporate this technology.
Sensor Operated Soap Dispensers. Since the best way to fight germs is handwashing, consider installing a sensor-operated soap dispenser. There are many options to choose from, including the sleek and compact TOTO Soap Dispenser in polished chrome. The dispenser eliminates most contact during the hand-washing process and further minimizing your threat from germs.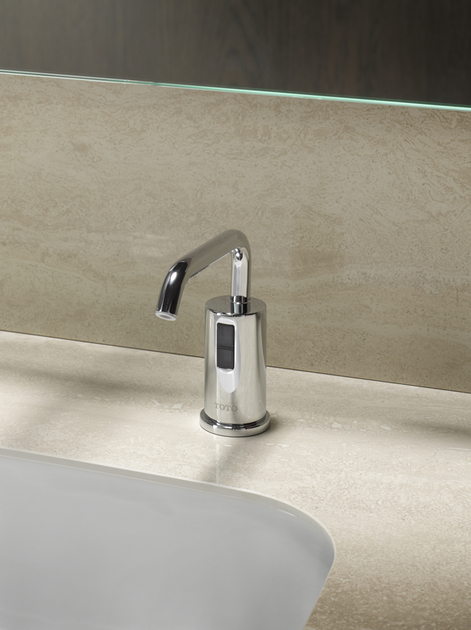 Bidet or washlet. The trend to include a bidet or washlet in the home has been slowly building over the past few years. However, during the pandemic, toilets with integrated bidet functionality soared in popularity because it is a hygienic alternative to toilet paper using water-jet cleaning. Options are available for a standalone bidet, a bidet toilet seat or an integrated smart toilet with bidet functionality.
Touchless toilets promote increased hygiene with touchless flushing and skirted toilets offer a sleek design for easier cleaning. Many smart toilets – with digital controls or Bluetooth® connectivity – include features that reduce manual cleaning time and promote increased hygiene. For self-cleaning toilets, the term "self-clean" means there is a mechanism or design element built into the toilet which helps reduce the need for traditional manual cleaning. Some options may include special cleaning solutions, hydrophobic or hydrophilic glazes, advanced flushing technology and specially-designed rims.
Regardless of what you choose – a self-cleaning toilet or a bidet – a skirted model is a better option. After all, there's not a place for the dust to collect, because most of the dust and debris collects on the p-trap.
---
Incorporating hands-free and voice-activated technology is a smart investment beyond sanitation benefits. With touchless plumbing fixtures and intuitive lighting, the water or energy source cuts off atomically when it is no longer needed. You're using water and energy efficiency and those savings will show up in your utility bills. Therefore, many of these fixtures are considered eco-friendly. By staying green, you keep germs, infectious viruses and bacteria to a minimum and will help protect the environment.
Grasser says, "For the younger generations it has become habit to ask Google, Alexa or Siri to turn on your lights or open your door. By adding more touchless voice activated products in their home it is adding to their current environment with their phones, music, etc. 'Hey Google, turn off my bedroom light.' As they incorporate this into their lifestyle, they are forcing their parents, and in many cases, their grandparents too."
Many of the smart technology offers additional safety features. Several touchless plumbing solutions give you the ability to set temperature controls to prevent scalding. If you want added security, you can select a smart lock that keeps a log of when your door is opened and closed. Some models will even notify you in real-time. Plus, smart locks can sync with other smart fixtures like lights so that homeowners never come home in the dark.
There are many products that aid in the health and wellness of customers' families and lifestyles. Choosing hands-free fixtures and voice-activated solutions can limit exposure to viruses and bacteria. They also go a long way towards increasing your sense of safety and good health. And you don't have to sacrifice style. Homeowners can have beautiful multi-tasking products to help them live a better, healthier life and thus reduce the risk of germ transmission.