Protect the summer sky with Dark Sky Lighting
Have a summer adventure in your own backyard with stargazing and the help of dark sky lighting - all while making a difference to reverse a large-scale environmental concern
Thursday, June 30, 2022
For many homeowners, warmer weather signals the perfect time to take the art of entertaining into the great outdoors. Work-from-home drove an increase in residential outdoor renovations; many saw the time as an opportunity to build or reinvent thoughtful porch, patio, and exterior kitchen and living spaces. By taking advantage of proper lighting, they extended summer evening living into the night.
Today's outdoor spaces are viewed as extensions of our existing living spaces and creating a lavish outdoor space relies upon lighting. There's good news! Homeowners don't have to be left in the dark in order to create a luxurious, stylish and safe outdoor space that is also sustainable.
According to The International Dark-Sky Association (IDA), light pollution is reversible.
The organization works to protect the night skies by educating people about the importance of understanding the need to reduce light pollution. The organization also certifies lighting through the Dark-Sky rating certification process. While light pollution is a growing problem that can have serious consequences for people, wildlife and the environment, a few simple changes recommended by IDA can lead to beautiful and functional home lighting - indoors and out - that does not contribute to excessive light pollution.
What is light pollution?
According to IDA, light pollution includes:
Glare – excessive brightness, causing visual discomfort

Skyglow – brightening of the night sky over inhabited areas

Light trespass – light falling where it is not intended or needed

Clutter – bright, excessive light sources
Light pollution can come from exterior and interior building lighting, advertising, commercial properties, offices, factories, streetlights and sporting venues.
Benefits of eco-friendly and dark sky lighting
Minimizing the impacts of artificial light has other benefits besides helping us to see starry skies.
According to IDA, research suggests that artificial light at night has negative effects on creatures, including amphibians, birds, mammals and insects, and even plants. For example, migratory birds wander off course and collide with illuminated buildings and towers. Adult female sea turtles have difficulty finding dark beaches for laying their eggs, while newborn sea turtles have trouble making their way to the ocean.
Dark sky lighting also has health and safety benefits for people. Research suggests that artificial lights that emit blue lights may contribute to the causes of cancer, heart disease, obesity and diabetes, according to IDA. In addition, artificial blue-white lights can increase glare and adversely affect vision, potentially creating road safety problems.
Transitioning toward eco-friendly lighting
Choose an energy-efficient light source.
Switching over to solar lighting for illuminating walkways, stairs, and driveways provides a number of benefits. Aside from being eco-friendly and reducing the home's carbon footprint, since solar lighting relies on the sun's energy, it requires little additional maintenance and are very cost-effective. For wired lighting, LED and low-voltage options rely on stepped-down power (meaning voltage is decreased by way of a transformer) from your home.
Select outdoor light fixtures with the "Dark Sky" or "Good Neighbor" seal of approval.
"Making the move to dark-sky rated outdoor light fixtures is easy and has substantial benefits," said Denise Vaughn, head of ESG/Sustainability for Ferguson. "It can mean the difference between being able to enjoy the stars at night and not being able to."
Ferguson offers a variety of dark sky outdoor light fixtures as part of the company's commitment to providing our customers environmentally-friendly solutions, Vaughn said.
Examples of dark sky fixtures
Acceptable dark sky lighting fixtures point downward and shield the light source to minimize glare and light trespass as well as make it easier to see at night. Examples include:
Full cutoff fixtures with flat lenses

Fully shielded wall pack and wall-mount features

Full cutoff street lights

Fully shielded barn lights, walkway bollards and decorative fixtures

Shielded and properly aimed floodlights
Director of Showroom Caroline Danielson said Ferguson makes dark sky-rated fixtures such as landscape lights and wall sconces available from trusted brands in a range of designs to complement every home style.
"We help homeowners with lighting that boosts curb appeal and provides energy-efficient safety lighting for walkways and porches, while also reducing light pollution and helping to protect the night sky and wildlife," Danielson said.
Tips for reducing light pollution
You can make your home night-sky friendly with a few easy steps, according to IDA:
Use lighting only when and where needed — and that is no brighter than necessary.

User warmer lights and minimize blue light emissions; blue light brightens the night sky more than any other color of light.

Install motion-detector lights and timers ensuring lights don't stay on all night.

Shield outdoor fixtures, so the light shines where it needs to: downward.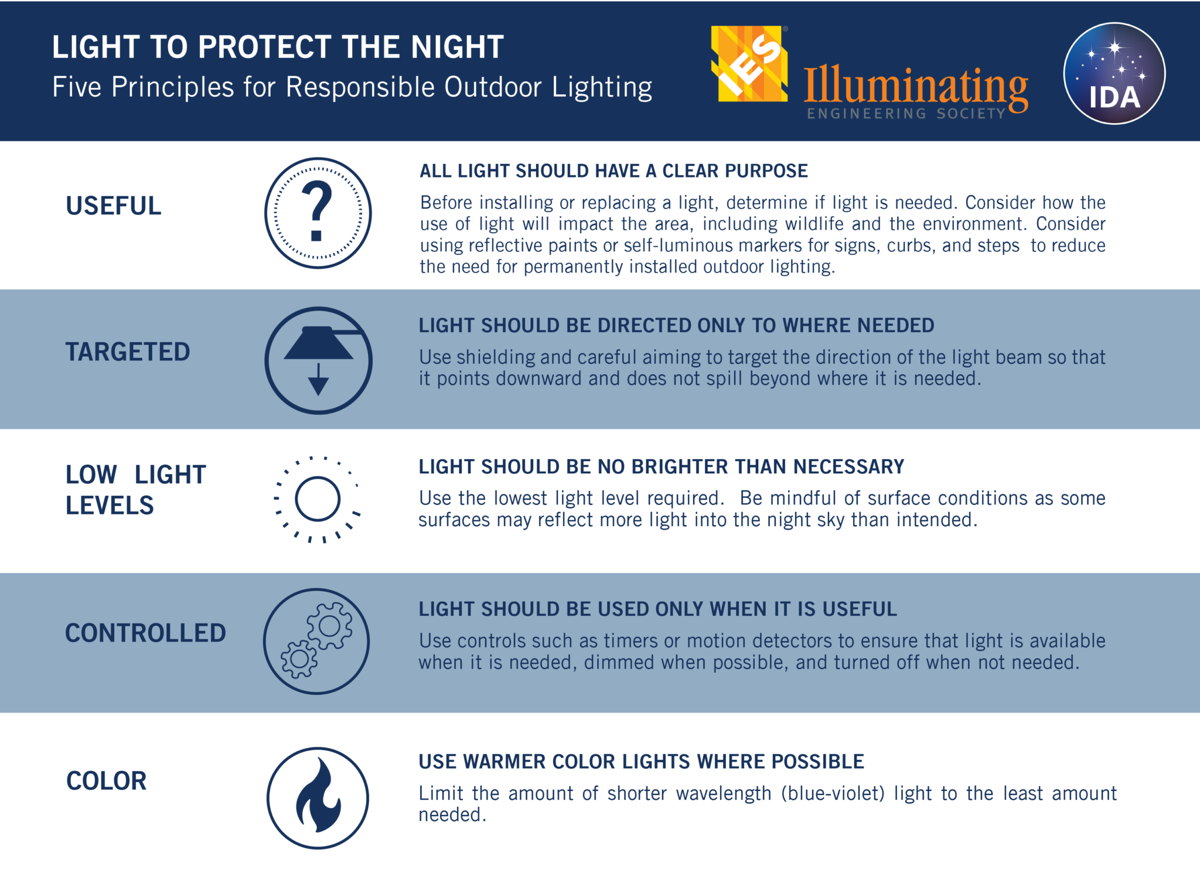 Tips for hot climates. Look to Arizona as an example. "Arizona has long fought against "light pollution" - city glare that obscures the night sky. The Dark Skies Movement is headquartered in Tucson, and Flagstaff, Sedona, the Village of Oak Creek, Camp Verde, and the Kaibab Paiute Indian Reservation are all officially designated dark sky regions." (VisitArizona.com, Outdoor Adventures: Arizona's Starry Nights.") Consider buying an outdoor ceiling fan without a light and pair it with recessed, ceiling ​ Dark Sky-rated light rated light. This set up can keep homeoweners cool and further deterring insects from gathering.
For more information
To learn more about minimizing light pollution, see the DarkSky.org website.