Unbelievable Intelligent Home Innovations Revealed in 2021
New standout products introduced this year pave the way for the intelligent home of the future
Tuesday, February 9, 2021
Today's homeowners welcome innovative products that assist day-to-day routines. Parents with children under 18 and adults age 55+ who are planning for aging in place are adopting the technology in the kitchen and bath space in record numbers. Where most of today's technology is focused on assisting homeowners with meal prep, laundry, cleaning, maintenance and other chores, tomorrow's home will take care of themselves - and at times, take care of the homeowners before they even voice their wants and needs.
When kitchen and bath smart technology was first introduced, it was more a "wow" factor. However, as several themes emerge from 2021's product innovations that show today's smart products have evolved to reflect homeowner's busy lifestyles and the need for balance and wellness.
Product experts at Ferguson Bath, Kitchen & Lighting Gallery share their top picks for showstopping kitchen and bath products for today and the future.
Integrated appliances
For several years, manufacturers offered easy ways to create a more personalized look and combat the idea that adopting smart home tech requires also adopting an ultra-modern look. Transcending the cabinet panel to hide appliances, some manufacturers offer homeowners the ability to select materials and finishes for fridges, microwaves, dishwashers and more to give a personalized look to smart appliances. Additionally, many offer appliances without handles that open with a "knock" on the front panel, blending seamlessly into the cabinetry and gives the kitchen a clean, state-of-the-art look.
Samsung Customizable BESPOKE 4-Door Flex Refrigerator
The BESPOKE 4-Door Flex refrigerator includes Samsung's trademark large capacity, flexible convenience, and powerful cooling performance, along with the option to choose the color and finish of the four front panels. Whether your preferred color palette is minimalist or cozy, there's a BESPOKE color for you.
Choose between Grey Glass, Sky Blue Glass, Navy Steel, Champagne Steel, Matte Black Steel, Navy Glass, White Glass, and Rose Pink Glass color options. You can also choose either a classic Steel metal finish or a glamorous Glass finish.

If your home aesthetic changes, you can make sure your refrigerator keeps up by switching out the panels to the color and finish of your choice for quick, easy customization.

Features a brand-new Beverage Center™, hidden away behind the upper left door that includes an Autofill Water Pitcher that is always full of fresh water and a water dispenser with a washable nozzle for hygienic use.

Features a FlexZone allowing for the ability to switch between refrigerator and freezer modes as needed. The FlexZone now includes five different convertible modes to keep your food at optimal temperatures, including the brand-new Fruits & Veggies mode.
LG Electronics' Furniture Concept Appliances
LG debuted their Furniture Concept Appliances that blur the line between state-of-the-art home appliances and designer furnishings. Included in the collection are InstaView® Door-in-Door® refrigerator, Fridge and Freezer pair, microwave, dishwasher, water purifier, WashTower™ and Styler.
The ability of these products' to integrate effortlessly in any environment is enhanced by the diversity of luxurious materials and modern, understated colors that can be mixed and matched to order. The suite of LG's Furniture Concept Appliances offers multiple combinations of materials and colors to choose from, enabling customers to customize each product to suit their personal tastes and the décor of any room in their home.

The Furniture Concept Appliances' premium look is further achieved through the use of various finishes, including stainless steel, glass, metal, and FENIX, an innovative material with advanced coating technology designed by Arpa Industriale of Italy. Opaque, fingerprint-resistant and pleasing to the touch, FENIX offers excellent durability and has a timeless yet distinctly modern appearance.
---
Health + Home
In 2019, Ferguson Bath, Kitchen & Lighting Gallery recognized a movement in the industry towards wellness that we like to refer to as Health + Home. Even into 2021, homeowners are looking to revitalize themselves and their homes with appliances and fixtures that recreate a relaxing, rejuvenating spa-like experience to facilitate living a better, healthier life. As the trend evolves, touchless tech and products that offer hands-free functionality continue to take center stage. Gadgets and innovations that offer sanitation, health and environmental-friendly features, both top of mind these days, will capture many homeowners' attention.
KOHLER Purist Suspend Ceiling Mount Kitchen Faucet
Free up counter space with the minimalist Purist ceiling-mounted kitchen faucet. The suspended faucet offers options to enhance the user experience, including Sweep Spray, a mighty prep and cleaning spray, Pause Technology, a button that allows users to pause the water flow to move the spray head without a mess, Boost Technology, a boost of faster water for filling pots and cleaning and MasterClean spray face, an easy-to-clean spray face that withstands mineral build-up.
Features a remote, water-resistant puck with an intuitive interface that allows users to access and use the faucet wirelessly.

The hose can be adjusted to any preferred ceiling and hanging height.

The spray head is weighted to eliminate excess swaying or splashing.

The swingarm offers 180 degrees of rotation, allowing for easy placement wherever is most convenient over the sink.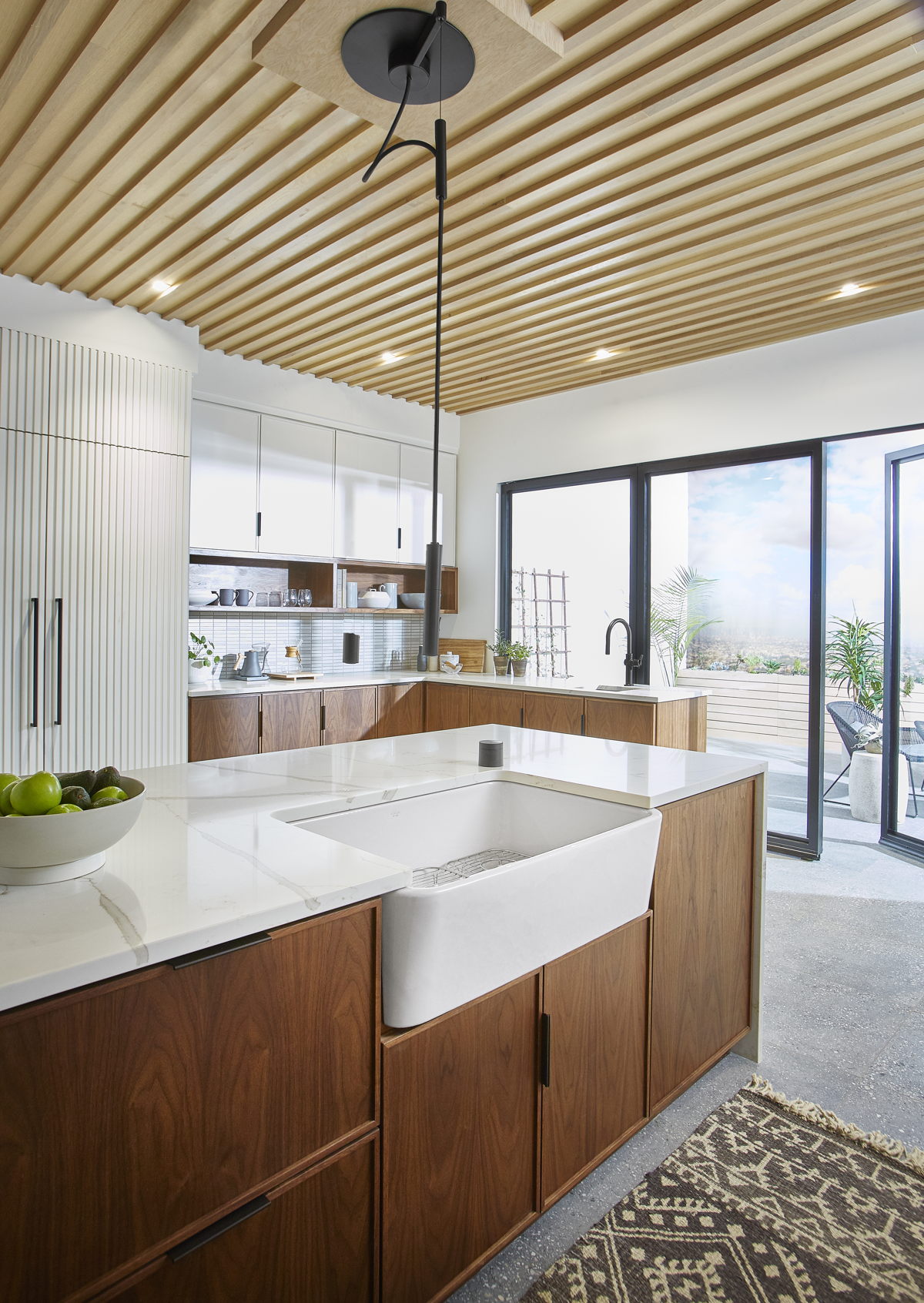 TOTO Anticipated Wellness Toilet
This year, TOTO is focused on its continued commitment to "clean" and "innovation. They have coined the term, Cleanovation. This term will resonate with homeowners who embrace technology and innovation as a way to promote balance and peace of mind. TOTO has even embarked on creating a new Wellness Toilet that, when the user comes in contact with the fixture, scans and performs an analysis for monitoring and wellness recommendations.
TOTO anticipates launching the Wellness Toilet in several years. In the meantime, the TOTO "Neorest" One Piece Toilet soared in popularity during the pandemic. Introducing a stand-alone bidet, a bidet toilet seat or an integrated smart toilet with bidet functionality is a hygienic alternative to toilet paper because of their use of water-jet cleaning. The TOTO "Neorest" One Piece Toilet is a high-tech, luxury toilet with Integrated Bidet Seat and EWATER+. The EWATER+ feature is an effective system for counteracting the microscopic buildup of bacteria and other germs' microscopic buildup without using chemicals or cleaning agents.
KOHLER Touchless Residential Bathroom Faucet
Kohler's Touchless Residential Bathroom Faucet offers hands-free activation for washing hands, brushing teeth, and other daily tasks. ​ Kohler launches an integrated faucet with embedded sensors and a remote puck that allows for the ability to retrofit any KOHLER single control bathroom faucet with hands-free technology.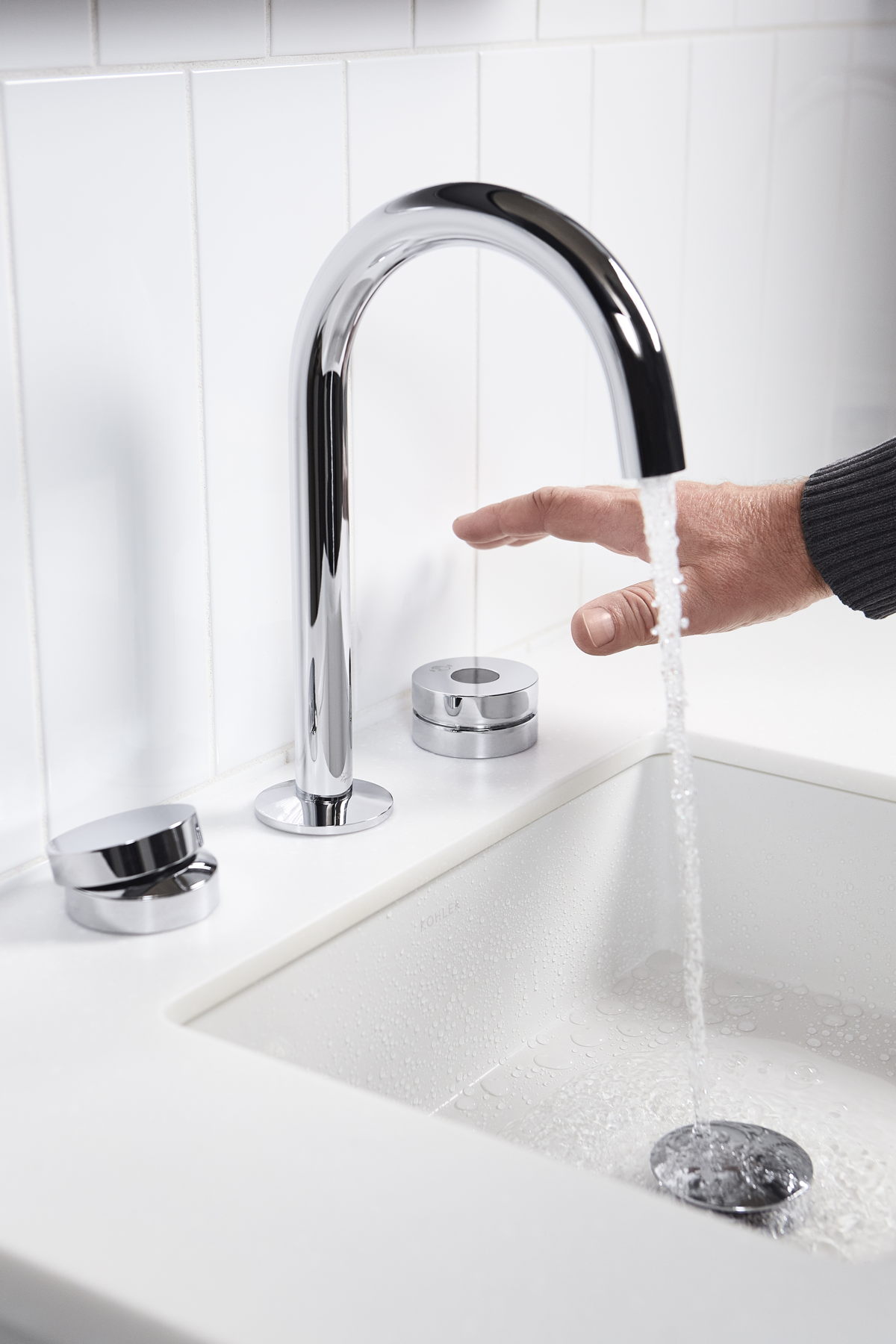 LG WashTower
LG WashTower offers a full-size dryer above a full-size front-load washer, delivering ultra-large capacity plus advanced washing in under 30 minutes.1 Unlike conventional stacked laundry pairs, LG's exclusive Center Control™ panel is conveniently positioned in the middle of the unit and displays both washer and dryer controls – putting comfortable access within reach for the very first time.
LG WashTower's single-unit design makes the most of space efficiency while adding the benefit of full-size capacity – all with a sleek, streamlined aesthetic in premium black steel.

Uses sensors to detect fabric texture and load size and then automatically selects the proper wash motions, temperatures, and more for precision fabric care. ​

Ultra-large capacity fits more clothes in every load and helps you conquer laundry day faster. LG TurboWash™ 360° powers through larger laundry loads in less time.

LG washers are the industry's first to be CERTIFIED asthma & allergy friendly® by the Asthma and Allergy Foundation of America.

Enjoy greater peace of mind with personalized customer support tools with customized maintenance tips, monthly usage reports to keep appliances performing their best, and alerts that warn of potential issues before they arise.
---
Products that multitask
As more and more homeowners attempt to juggle multiple roles and responsibilities in the home, they look for products that help them do the same. Manufacturers respond to homeowners' search for appliances that assist with meal prep, laundry, cleaning and more. Guided assistance, meal planning, self-cleaning, voice control and reminders are all welcomed in today's active household.
GE FIRST in-oven camera, the CookCam™
GE introduces the first CookCam™ that lets homeowners livestream the contents of an oven to any smart device. This gives home cooks greater flexibility. This exclusive technology is available on GE Profile™ and CAFÉ ranges and wall ovens like the GE Profile 30" Smart Slide-In Front-Control Induction Fingerprint-Resistant Range.
Monogram™ Redesigned Statement Collection Professional Range
Nearly three years in the making, this range is meticulously designed and engineered to be the ultimate centerpiece of high-end kitchen design. Luxury details like solid brass accents, smooth glide racks and soft-close doors combine with cooking performance, including an industry-exclusive TrueTemp™ gas burner that can be set to hold an exact temperature for perfect results. ​
WiFi and Bluetooth capabilities offer a range of convenient features, from remote start and voice control to the ability to customize the color and brightness of the task lighting around the knobs and on the LCD screen. Built-in WiFi also means future upgradability, so the appliance you buy today will gain more features and capabilities over time.

Delivers exceptional flexibility with multi-ring configurations and brass burners for high-heat durability, including a 23,000 BTU multi-ring brass burner that reaches high temperatures very quickly but can also accommodate low temperatures.

The TrueTemp™ gas burner, available on select models, allows users to set and maintain a precise temperature, which means cooks can dial in the perfect temperature to caramelize onions, sear a steak or sizzle scallops without over-cooking.

Compatible with Hestan Cue for a step-by-step guided video cooking experience, precision oven modes including hot air fry and built-in WiFi and Bluetooth, which are sure to elevate any cooking experience.

Features edge-to-edge handles, polished stainless steel and rich interactive graphic displays.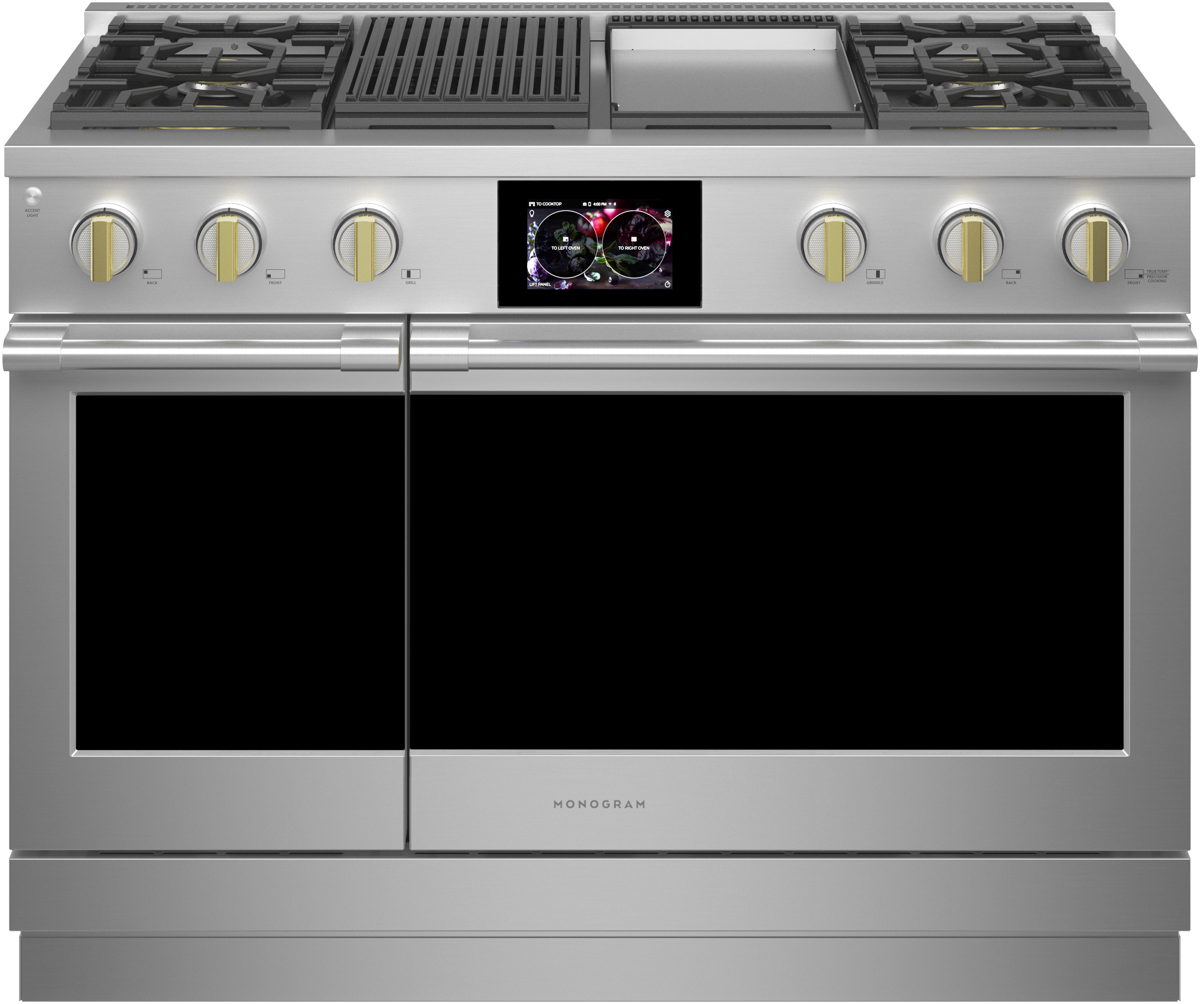 LG Electronics InstaView® Range with Air Sous Vide
InstaView® Range with Air Sous Vide from LG Electronics is the complete cooking solution featuring LG's Air Fry mode, InstaView oven door and a range of smart functions for a healthy and convenient culinary life at home.
Using innovative Air Sous Vide mode, the stylish range cooks food perfectly every time for meals that look and taste like they've been prepared by a professional every time.

With LG InstaView technology, tapping twice on the oven's glass door automatically turns on an interior light to visually check the progress inside a cinch.

With EasyClean®, users can maintain the oven's cleanliness and the cooktop* with no effort, no chemicals in just 10 minutes using only the power of pure water.

The range also features LG's ProBake® Convection technology for quick and thorough cooking without preheating, while Air Fry delivers flavorful fried treats using significantly less oil than deep frying.

The LG range can be controlled and monitored for even more convenience using the ThinQ™ app connected to Google Assistant and Amazon Alexa smart speakers. ​

LG partners SideChef, Innit, Drop and Tovala offers helpful culinary inspiration through the hundreds of easy-to-follow recipes on their apps. Have cooking instructions sent to the oven, which then sets the appropriate cooking mode and temperature or using a bar code, use the Scan to Cook feature.

The range supports Proactive Customer Care, LG's AI service solution, for even more added value. With just a smartphone and the ThinQ app, users can maintain the optimal performance and efficiency of compatible LG appliances for years to come.
---
Nature & Texture: Experiential product
In Trends & Influences VII, the Duo of the Year, Nature & Texture is about bringing the outdoors in. For most, it means utilizing fixtures that reminiscent of rough tree bark, cold hard stone and lively green grass to create a space that's as close to being one with nature as possible without living in the forest. The KOHLER Stillness Bath is a bathing experience drawing its inspiration from Japanese forest bathing or shinrin-yoku.
KOHLER Stillness Bath
Transforming the bathroom into a spa-like environment for quiet mindfulness, the Stillness Bath offers a sanctuary for self-care and wellbeing. It starts with water filling from the bottom of the bath, overflowing into the Hinoki wood moat to create a soothing sound. Full-spectrum lighting surrounds the bath, setting the mood and creating a chromatherapy experience. The fog then envelopes the Stillness Bath's surface, immersing the bather in a feeling of deep relaxation. Finally, essential oils can be added to the bath's experience tower, which softly emits invigorating aromas to stimulate the senses and promote focus.
Water, light, fog and aromas converge to create an immersive journey of the senses designed to relax the mind, soothe the body and renew the spirit.

Every element is controlled through the Kohler Konnect app for complete customization of the experience.

The Stillness Bath has a clean, minimal exterior with a warm, soft interior while surrounded by a wooden grate that creates a spa ecosystem.