When Every Drop Counts: Reflecting on "Imagine a Day Without Water Day"
Harnessing Innovation and Partnerships to Safeguard Our Nation's Most Vital Resource
Wednesday, October 18, 2023
Picture this: You turn on your tap one day, and nothing flows out! No water for your morning coffee, no shower and no functioning toilets? It's a reality nobody wants to face, but every October 19, the nation pauses to ponder: "What if we ran out of water?" This isn't just a day of reflection; Imagine a Day Without Water Day is a call to action, highlighting how vital water is and urging everyone to safeguard our water systems.
A Day Without Water: A Frightening Reality
It's chilling that inadequate access to clean, running water and proper sanitation is a daily reality for over two million Americans. Their taps sputter and cough because our aging infrastructure requires repair and modernization.
"Water is our most important resource. We take for granted that our sinks and toilets will work when we turn them on, so imagining a day without water is scary for many people," explains Kerry Hoffman, Ferguson Director, Municipal Technology Solutions.
The situation for many water utilities, as it stands, is dire. According to the American Society of Civil Engineers, 6 billion gallons of treated water are lost daily in the United States due to leaking pipes, and an estimated 240,000 water main breaks occur yearly. Suppose America doesn't fix its old water systems. In that case, communities face health risks associated with contaminated water, suffer water shortages and end up footing the bill for repair costs passed on by utilities. Hoffman said, "Our team is delving into solutions that help ensure we avoid that future by giving utilities visibility into the data they need to manage our water supply proactively." ​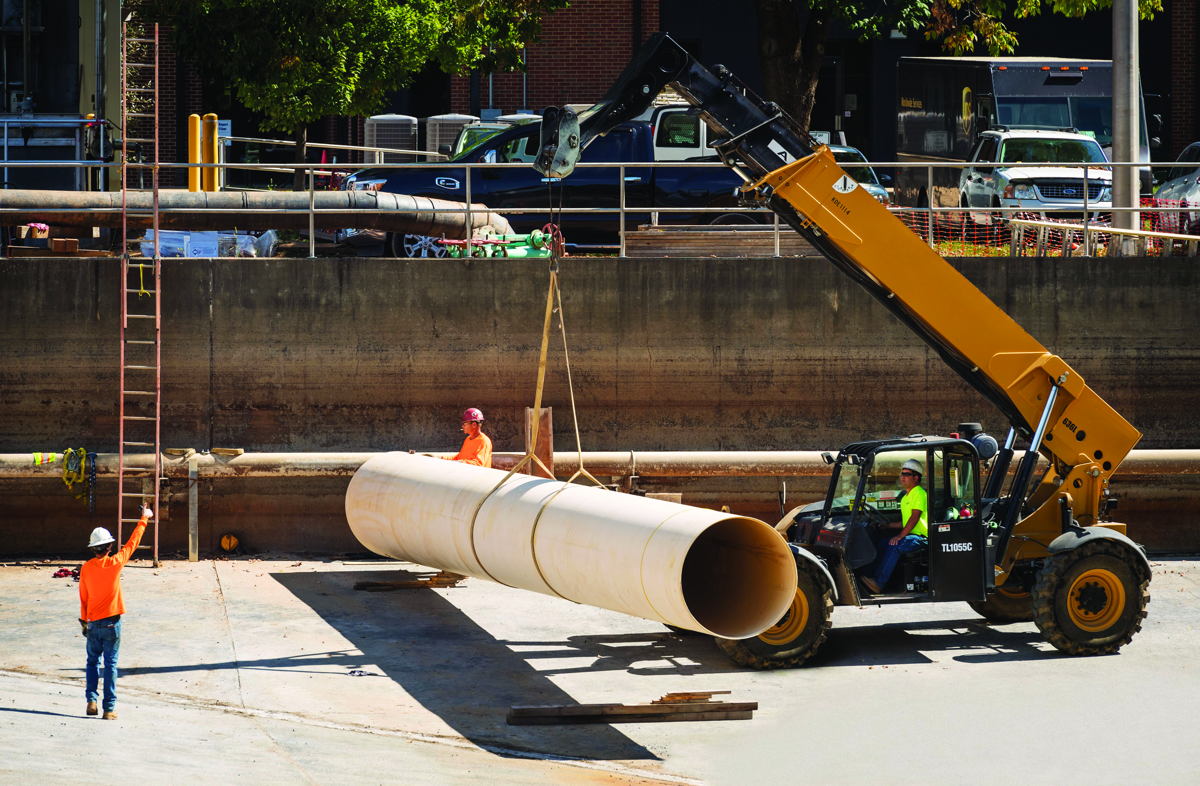 Amid the water worries, there's a ripple of hope. Increasing numbers of individuals like Hoffman recognize the importance of investing in reliable water systems, ensuring our communities have access to clean, safe water for future generations. In collaboration with tech innovators like VODA.ai and other industry leaders, Ferguson is shaping the future of water management.
AI's Role in Revolutionizing Water Management
Ferguson recently invested in VODA.ai, the name of the company and its cutting-edge software, which leverages the power of artificial intelligence to provide insights into system vulnerabilities, enabling utilities to plan, prioritize and budget utility repairs. Having analyzed millions of miles of pipes, it excels in risk modeling and leak monitoring. The AI-powered asset management solution for water and wastewater utilities enables proactive interventions and ensures stakeholders like utilities and engineering firms make better-informed decisions.

​"We pride ourselves in helping water utilities preserve water, their most valuable asset," said Darren Campbell, Ferguson's National Senior Director of One Municipal. "Our Ferguson Municipal Technology Solution team, together with VODA.ai, will help our customers focus on repairing and replacing their pipes with the highest risk of failure, empowering them to allocate their capital expenditure budgets most effectively." ​

​George Demosthenous, CEO at VODA.ai, ​ commented on the enhanced collaboration with Ferguson, stating, "This investment and expanded collaboration with Ferguson marks a significant milestone in our mission to support the water industry. Together, we will continue to innovate and deliver exceptional value to utilities nationwide."

​The combined expertise and resources will undoubtedly bolster the longevity and reliability of water infrastructure systems. Campbell says, "We're combining technology with these relationships to offer innovative and sustainable solutions that help businesses manage water responsibly while operating efficiently."

​"While Ferguson's team is harnessing technology to develop innovative solutions, our company also understands the importance of forming strategic alliances," says Denise Vaughn, Vice President - Environmental, Social and Governance, Ferguson. "By immersing themselves in broader conversations and joining forces with industry trailblazers, they're taking their commitment to the next level."
​
UN Water Conference: A Testament to Ferguson's Commitment
Vaughn manages partnerships with organizations such as DIGDEEP and IAPMO and serves on the advisory board of DIGDEEP, showcasing her hands-on involvement. Ferguson is delving deep into the heart of water challenges faced by communities nationwide. Its unwavering commitment and impactful contributions in this arena haven't gone unnoticed: the Ferguson ESG team was recently accredited to attend the UN 2023 Water Conference.
Being accredited to participate in the recent UN 2023 Water Conference was a significant acknowledgment for the company. It underlined the company's leadership and expertise in the water sector and positions Ferguson as a key player in the nation's efforts to address water-related challenges. Vaughn said, "Such an acceptance demonstrates the trust and recognition of our peers and emphasizes our company's role in shaping sustainable water solutions for the future."
White House Roundtable: Championing Sound Water Infrastructure
Ferguson continues to be recognized for championing solutions that truly make a difference. This distinction even caught the attention of the White House earlier this year. Earlier this summer, CEO Kevin Murphy and David Hill, Director of Business Development for Waterworks, Ferguson, participated in a White House roundtable session on lead service line replacement (LSLR), a focused effort to improve the quality of drinking water infrastructure in the US over the next five years funded by the Bipartisan Infrastructure Law.
The roundtable included CEOs from major US-based manufacturers, private and public water suppliers, and senior White House administration officials. Ferguson was the only supplier distributor invited to speak with industry leaders at the round table. Having a seat at this table allows key leaders to understand the needs of federal, state, and local governments.
"The aging water infrastructure needs are immense, and the demand for clean reliable water increases daily. ​ At the same time, resources to manage our nation's water infrastructure have increasingly become scarce. ​ Ferguson recognizes that these complexities combined with a demanding pace require an innovative approach. We continue to press the technology envelope to deliver pioneering products and solutions," said Hill. "As importantly, we are revolutionizing our industry by engaging much earlier, providing holistic solutions to our stakeholders and leveraging our full breadth of capabilities, resulting in a much higher impact on our nation's water infrastructure."
Path Forward: A Collective Responsibility
Teamwork is the clear path forward. The unsettling image of a day without water should be a reminder of the collective responsibility we hold to safeguard our most essential resource for future generations. The efforts and drive of Ferguson, VODA.ai and other industry leaders represent more than just business ventures; it's a heartfelt commitment to the well-being of communities, building resilience and protecting a precious resource.